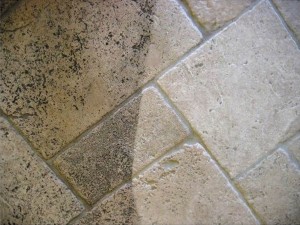 Cleaning tiles and grout is important for several reasons:
Aesthetics: Dirty and stained tiles and grout can make your floors and walls look old, dingy, and unappealing. Regular cleaning can help maintain the appearance and shine of your tiles and grout.

Hygiene: Over time, dirt, grime, and moisture can accumulate on the surface of tiles and grout, providing a breeding ground for bacteria and other harmful microorganisms. This can pose a health hazard, especially for people with allergies or respiratory problems.

Durability: Dirt and grime can also cause tiles and grout to deteriorate over time, leading to cracks, chips, and other damage. Regular cleaning can help prevent this and extend the lifespan of your tiles and grout.

Value: Regular cleaning and maintenance can help preserve the value of your property by keeping your floors and walls looking clean and well-maintained. This can be important if you ever decide to sell your home or property.
Tile and Grout Cleaning Service
As a rule, most people would prefer their tiles not to look dull, dirty.  Generally tiles over the years have dirt ground into the tile grout.  For the most part, bruised knees and coupled with sore back, would be a solution to this dilemma.  Unfortunately, over the years this is what most consumers will do to clean their tiles.  Hence most customers use toothbrushes, in process of cleaning their own Tile and Grout.
 

Microscopic Dirt
As an example, microscopic pores allow dirt.  Oils and other contaminants become trapped below the surface. Resulting situation, impossible removing with regular mopping.  Subsequently soiling continues to build up inside those pores, leaving grout looking dark, dirty, and discolored.  Furthermore heavy hand scrubbing and harsh cleaners, can be ineffective
 Professional Tile and Grout Cleaning
However, there is a less strenuous solution, call a professional tile and grout cleaning company.  Let Elite Carpet Cleaning restore the natural beauty of ceramic tile and grout quickly and economically.  Together with, powerful, truck mounted steam cleaning process floors, resulting finished shiny floors.
 Tile and Grout Restored
Afterward, beautiful ceramic tiles with clear shine will emerge.  Furthermore, clients who were planning to replace their tiles until observing how old dingy tiles restored almost to a new state.  As a result, the soapy solution used, tile and grout  attracting dust and oils.   Thereby resulting in oxidation process creating paint like film on your tiles.  In summary, steam machine contact tile and grout.  Shine and beauty of the tiles start showing on completion of cleaning.
 Best Cleaning in Michigan
Tile and grout cleaning services are some of the best in Michigan.  We have professional cleaners who are eager and waiting to perform professional cleaning.  Lastly we recommend taking the time to call Elite Carpet Cleaning Services, you will be glad and happy that you did.
 Elite Tile and Grout Cleaning
In summary, in addition to having hard surface looking beautiful and shiny, likewise, take advantage of getting your carpets cleaned.  Likewise, having upholstery steaming performed in same time period.  Elite Tile and Grout Cleaning, small family owned business for over 21 years.  Subsequently, as a rule, we always supply the best cleaning services in state of Michigan.