THREE ROOM SPECIAL $115 Carpet Cleaning
-Choose three areas in your home, each area cannot be over 200 Sq ft (Areas over 200 Sq ft will be considered 2 areas)
-Stair case consisting of 14-16 steps is considered area,
-Hallways not exceeding 15 ft are considered as one area
–
Elite Carpet & Upholstery cleaning know that every carpet cleaning is not always the same, some are unique. We begin our carpet cleaning service with a walk through of the areas that need cleaning, we ask you to point out any stains or spots that are causing you concerns.  Most homeowners are familiar with the source and cause of the stain. (Food spill, pet stain), the source of the stain helps us use the proper detergents to remove the spots or stains.  We always ask if you have applied any spotter on the stains ( Oxi, Resolve, Spot Shot, Bleach Solutions).  You should always read the label of any kind of store bought spotter solutions, never try to experiment with combination of different spotters.  Please look at our Spotting Section to help you with any kind of carpet or upholstery cleaning situations.
Once we have completed our walk through, we reconfirm the price quoted to you on the phone.  The description given by the customer on phone determines the cost of the cleaning.  If the customer forgets to mention a staircase we would adjust the price at that moment, or if the customer decides not to clean a certain room.  The price includes a complete carpet or upholstery cleaning, as I will explain.  We explain to our customers what and what we can't perform in the cleaning process.  If any company informs you on the phone that they can remove any kind of spot or stain, please keep searching for a company that will actually be honest with you as to the factual ability of what and what cannot be removed from carpet. We at Elite Carpet & Upholstery Cleaning want you to have a pleasant experience with the cleaning process, we do not promise you the world and disappoint you at the end of the cleaning service.  I have a disclaimer that I always read to my customers "We will do our best, we do not perform miracles, only God can perform miracles".  All carpet cleaning companies have access to the same,  the problem is most companies do not want to spend the extra time or expense to try removing the stain or spot.  The big carpet cleaning companies, have to get there employees in and out of your home as quickly as possible, the smaller unethical carpet & upholstery cleaning companies do the same.
We at Elite Carpet & Upholstery Cleaning believe in quality not quantity.  In my 20 years of owning a carpet cleaning business, the toughest obstacle I encounter is, finding quality workers.  The worst employees I found were the ones that had a history of cleaning carpet or furniture with competing businesses.  I would watch them clean and scratch my head, as they steam past a spot and not take any effort to remove it.  The conversation goes like this "Joe why did you not re-spot that spill, why did you ignore it?"  I laugh when I hear their "Because it's the spot is permanent, it cannot be removed".  I always reply with "How do you know for sure if you don't take the time to actually try removing it ?".   I pay my employees by the hour not commission like the bigger franchise carpet & Upholstery cleaning companies.  I want the employee to be able to take his time and do a professional quality cleaning in your home. The competition pay their employees commission, the faster they clean your home and the more extra things they charge you for, the more money they make to feed their family, it's not their fault but rather the employer.
The first process in our cleaning process
Each room that consists of any spots or stains is spotted with the proper solution, not all spills are treated with same spotter.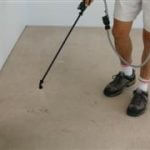 PRECONDITION  (free) We spray a special formulated detergent referred to as a carpet break up soil containment, oils, mud, pet residues, ink, paint. The solution is neutral base and is non flammable, and safe for use around you and your family, we also offer pure green solution registered with EPA on request., preconditioner needs at least 10 minutes for it to do its job and emulsify the oils and break and lessen  foreign material in your carpet or Upholstery.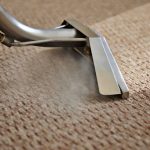 STEAMING PROCESS (Proper Term is "Hot Water Extraction)
We roll out our vacuum hose and hot water line into your home.  We use Powerful Truck Mounted Steaming equipment built by the Butler Corporation.  We start at the farthest room and begin steaming the carpet or furniture.  Note:  The only thing that we inject with our steaming process is Hot water 175 F to 210F depending on temperature outside, and acidic rinse solution, usually referred to as Vinegar.  We do not inject any powerful chemicals that are unsafe and unstable.  We use this process to Rinse out your carpeting or furnishings.  Because we took the time to properly spot the carpets and precondition the carpet, we just need to rinse out the preconditioner and all the containment from your Carpeting or Upholstery, we unlike the completion do not need to inject powerful chemicals into your carpet to compensate for not properly spotting or preconditioning the carpet or furniture.
This is the 3rd biggest mistake the Rush, Rush companies do, they leave chemicals in your carpet (I call clean dirt) which in days time will attract oils, dust, hair etc.  The steaming process is only supposed to be used to RINSE THE CARPET.  The carpet manufactures recommend leaving the Carpeting Neutral and foreign chemical free.
We at this stage take the time to Deodorize your Carpeting or Upholstery Furniture
APPLY PROTECTION: (Optional and has extra cost)
Scotchgard Protection is the only thing we have to charge extra , the product is very expensive from our suppliers, we only charge you at this time $14 for each room, we've had this price for last 6 years, you will be shocked what the competition charges for same product.  Its recommended by Carpet manufacture but the decision is yours and yours only, you are after all paying for it.
We make sure you have a look around your home and address any concerns, we give you instructions on setting temp, walking, and safety concerns.  We on the average will take 1 ½ hours to 2 hours to clean average of 5 areas.  The competition, well the yellow and purple or white Trucks will be done in average of 45 minutes, rushing to get to the next 10- 15 homes to clean, after all TIME IS MONEY