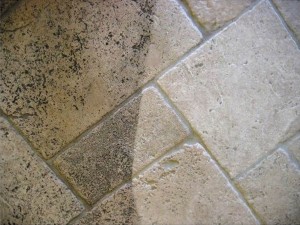 Prepare To Be Amazed
Ceramic tile & grout cleaning
Pre-Spray solution  to loosen embedded soil or grease  that have oxidized over time.
Power Wash floor / extracting  water in one step.
Microscopic pores allow dirt. oils and other contaminates to become trapped below the surface, where it is almost impossible to be removed with regular mopping. The soiling continues to build up inside those pores, leaving grout looking dark, dirty and discolored. Even heavy hand scrubbing and harsh cleaners, can be ineffective (not to mention time consuming, labor intensive and down right painful to your back and knees).
Let restore the natural beauty of your ceramic tile and grout quickly and economically. With our powerful, truck mounted cleaning process your floors will sparkle once again. You will be amazed on the beautiful results you will receive with the ceramic tile and grout cleaning. We've had clients that were planning to replace their tiles until they saw how their old dingy tiles got restored almost to a new state. The soapy solution your using on you tile and grout is attracting dust and oils which result in oxidation process that creates a paint like film on your tiles. Once our tile machine makes contact with your tile and grout, you start to see the shine and beauty of the tiles start showing off.